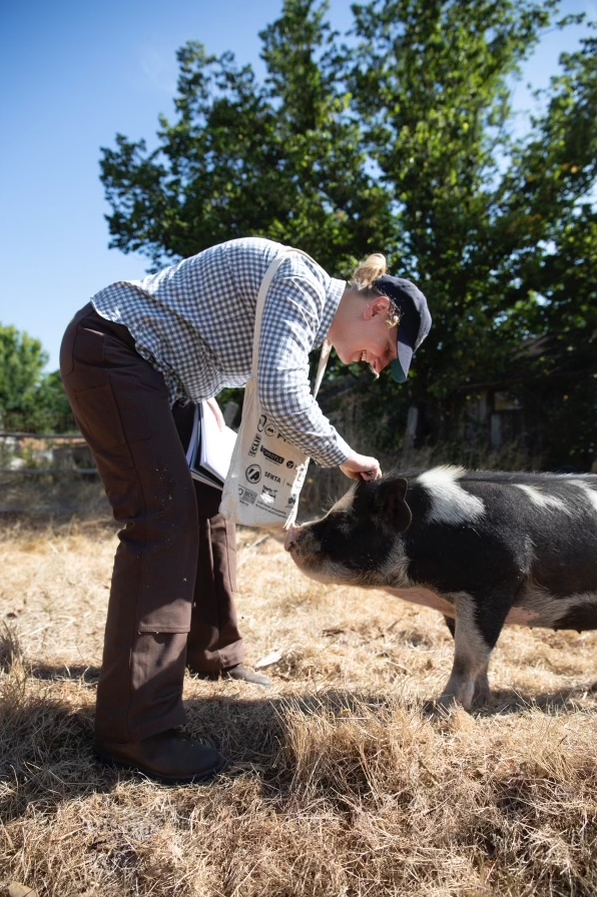 My first book, Raw Material, was a 2019 finalist for the WILLA and Northern California Book Awards, and shortlisted for the Northern California Independent Booksellers Award. My writing appears in numerous publications, including Spin Off, Grit Magazine and Hippocampus.
My locally sourced and manufactured yarn — and natural dyes from my garden — is sold under the Waste Knot label. I speak about regenerative agriculture, sheep, and wool terroir on podcasts and at schools, yarn shops, fiber festivals, guild meetings, and other events.
I provide writing, book indexing and other editorial services to select clients whose values I share, or at least admire. I hold MS and PhD degrees from Illinois Tech. Learn more about my educational and professional background on LinkedIn.
I volunteer with the San Mateo County Large Animal Evacuation Group and my ham radio call sign is KN6WTD.
I learned to shear sheep in 2013 because I heard there was a shortage of sheep shearers. It was true (still is). My shearing side gig grew over the course of the next two years and, in mid 2015, I quit my day job.
I shear throughout the San Francisco Bay Area and Northern California. I also trim hooves and horns, assist with lambing, and grade, sort and skirt wool, both for commercial sale and for textile product design purposes. I will do all of these things for as long as my body permits.
I share my life with the best husband on earth and a 100-pound livestock guardian dog who, lucky for us, was a titch lazy and didn't want to work.