Since 2013, I have worked as a sheep shearer certified by the Hopland Research and Extension Center. I shear throughout the Bay Area and northern California, and have been fortunate to work in eastern Washington, northeastern Nevada, and Colorado's Great Divide range as well. I am also a certified Level I Wool Classer, and periodically work as a ranch hand for select customers to assist with lambing and other livestock needs.
Supporting Local Wool Economy
I learned to shear sheep because I want to directly support my local California wool economy in a way that goes beyond buying yarn (which I am still plenty good at). I want to do everything I can to help California wool production and to make wool producers' lives easier, so that we can all enjoy a healthy supply of 100% ecologically and domestically produced fiber and, by extension, clothing.
There is a shortage of shearers in the U.S. and the world, and people with small flocks (many of whom are knitters and spinners) have an especially difficult time finding skilled, humane shearers. It's not always worth a shearer's time to travel far to shear just a few head. This creates a challenge at best, and a disincentive to wool production at worst, for people who might otherwise contribute to the wool economy.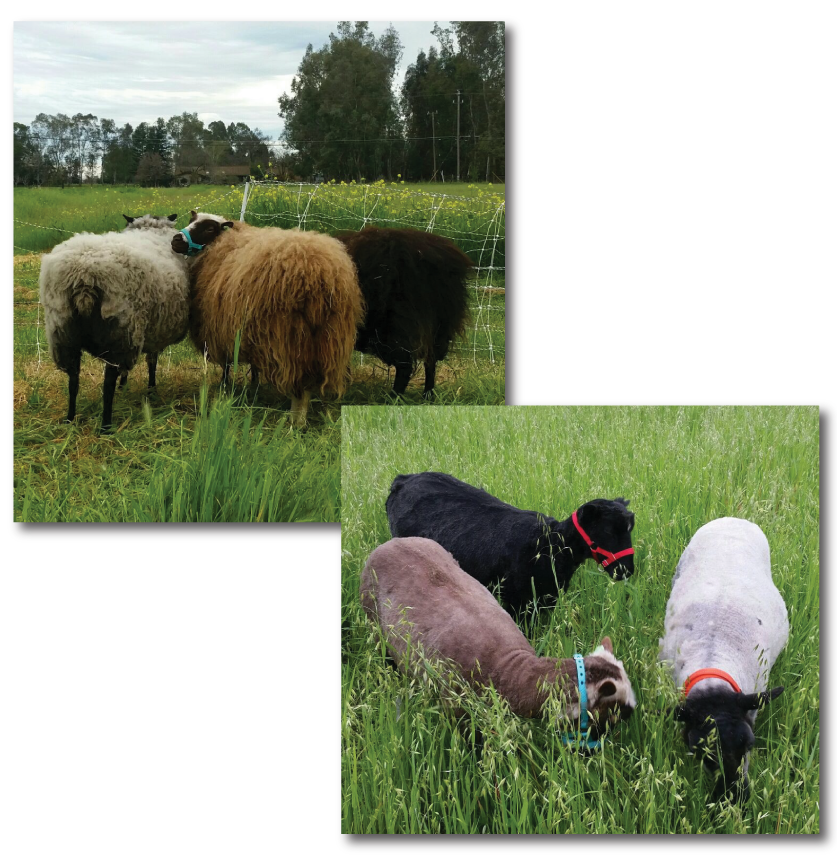 MINIMUM: I have a $150 minimum, regardless of job size.
If this is a challenge, please contact me anyway. We may be able to work something out.
RANCH CALL: $50-$90 (varies according to travel distance and time)
SHEARING: $10-15 per head (1-5 sheep: $15 each; 6-15 sheep: $12 each; 16-20 sheep: $10 each)
ADDITIONAL $5: I charge an additional $5 per head if your sheep has horns, is a ram, or is in poor condition (obese beyond what is normal for its breed standard, with 18+ months of wool growth, etc.) 

HOOF and HORN TRIMMING: $5/head, each
I accept cash, checks, Square, Venmo, and PayPal.
What do you need to know about my sheep?
We can talk through this by phone before I shear for you, but I need a photo of your sheep and to know:
How many sheep you have, their estimated weight and size, and their breed(s)
How many are ewes, rams, yearlings or wethers
When your sheep were last shorn (if they have ever been shorn)
Your location, and the location of the sheep (if different)
Any past or current issues with your sheep: abscesses, fly strike, possible pregnancy, injuries — anything particular to each animal that may affect its health, temperament, skin, fleece and so on.
How should I prepare for shearing?
There are a few critically important things you must do to prepare for shearing. Namely, sheep must be empty, caught, and dry:
Pen your sheep. Gather and pen your sheep the night before, at least 10-12 hours before shearing. I am not a herding dog, alas, and being chased by a stranger stresses the sheep. Penning sheep ensures the sheep are calmer and nearby when shearing begins. Please have them ready for shearing in fairly tight quarters (like 6′ x 6′) so I can catch them easily. A pen that is the size of two large rooms does not make for easy catching.
Do not feed or water sheep for 10-12 hours ahead of shearing. Much like us, sheep do not need to eat all night. This can feel cruel, but "fasting" is critical for sheep health and comfort during shearing. When I move your sheep into different shearing positions, food and water sloshing around inside strains their organs. The sheep's full ruminant system holds about six gallons, and that weight pushes against their diaphragm. This makes the sheep feel like it can't breathe, and can cause heart attacks. I know shearers who have had sheep go into cardiac arrest right between their legs, and one even gave a sheep CPR to save it. Please work with me to avoid this scenario and make your sheep as comfortable as possible, and avoid gasping and dry heaving.
Make sure your sheep are dry. I cannot shear wet sheep. This includes a heavy morning mist. Shears do not move through wet wool properly or safely. Since wool is warm when wet, wet wool will rot and can even smolder. Wet wool can also give us "shearers' boils," which happen when human skin is chafed by wet fabric and wool, and tries to draw in water and lanolin (oil), which holds bacteria and other pathogens.
What do I need to provide?
Not much, aside from the following:
Electricity and power outlets: My shears are electric, so power outlets must be available in the general shearing vicinity. I always carry extension cords, but extras can be helpful depending on how large an area is involved.
A clean piece of plywood (4′ x 4′ or larger): This results in a cleaner fleece with less vegetable matter. If you do not have plywood let me know, and I'll bring one. I can shear on dirt if necessary but plywood makes the job a little easier.
A broom for post-shearing clean-up.
Laundry or garbage bags for fleece you wish to keep.
Where do you shear?
I do not have strict geographic boundaries for shearing services. I do my best based on your needs, location ,and my schedule. I shear throughout the Bay Area and northern California, and occasionally travel to other states for "vacation shearing" if I can get enough work in the area to make the trip worthwhile. 
I am happy to refer  other certified shearers that may be located nearer to you. When you have a local shearer, it costs you less (because they don't travel as far), and that shearer has to drive less. Having a local shearer even makes some folks feel able to buy more sheep, which is an overall boon for the sheep and wool world. 
When do you shear?
I shear on weekdays and weekends by appointment only, year round.
Do you trim hooves?
Yes. I charge $5/head for this service.
Do you shear goats, llamas, and/or alpacas?
No. I am happy to recommend other, experienced shearers who shear these animals, and who have and maintain the proper gear to do so.
Do you do oral drenching (deworming)?
Yes, with caveats. I only have experience with liquid drench administered via drenching gun (oral syringe). I find this process works best and goes much faster when we can work as a team of at least two people. This enables one person to fill the drenching gun with the appropriate quantity of drench for each animal (depending on weight) and another person to administer it, which must be done carefully.
Please note that you must have all of the necessary drenching equipment (drugs/drench/wormer in sufficient quantity, drenching gun(s) in good condition) and each animal's weight in order to formulate the proper dose. I am of the "weigh, don't guess" school of thought: if you do not know how much your sheep weighs and have no scale to determine it, I cannot advise guessing.
As for shearing, it is generally advisable to withhold food and water for at least 12 hours prior to drenching.
Can you skirt my fleece?
Yes, and I can also teach you how to do so. I will need a skirting table or chicken wire on a frame in order to skirt properly. If such is not available, I can minimally skirt your fleece on a clean canvas that I carry with me.
Do you assist with lambing?
Yes, though I assist with post-lambing ranch needs like pen cleaning, weighing and so on more than lambing itself. I'm of the no-to-low human intervention school of thought when it comes to lambing, though there are exceptions. Some breeds require more human intervention due to a history of… human intervention. 
Interested in booking? Let me know more.
I teach, too. View my workshops and events.